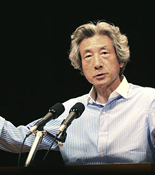 Prime Minister (総理) 11/19/2003-9/21/2005
KOIZUMI Junichiro
小泉 純一郎
The second Koizumi administration differed in a number of ways from the first. Though he spearheaded a number of consequential foreign policy changes through, other issues haunted the administration. Koizumi had a great deal of trouble producing promised domestic reforms, especially concerning Japan's enormous postal service. On the foreign policy front, North Korea proved recalcitrant on the issue of past abuductions and returning the abductees and their families as well as its nuclear weapons program. Relations with China and Korea continues to be strained over Koizumi's continued visits to the Yasukuni Shrine.
---
Minister of Internal Affairs/ Post /Telecommunications (総務・・郵便・通信)    
ASO Taro
(麻生 太郎)
Kono Faction
Aso's political pedigree is impeccable. Born to a wealthy zaibatsu family, he is related to two former prime ministers and even the Imperial family via the marraige of a distant cousin. He spent a good deal of time studying at Stanford University until family pressures forced him to leave the US. After briefly returning home he continued his education in the UK. After graduation from Gakushuin University Aso focused on running the family business Starting in 1966. After chairing Japan's Junior Chamber in 1978, Aso was elected to the Diet in 1979. Though taking a vice-ministerial post in 1988 (Education, Sports, Science, and Culture), Aso did not serve in his first cabinet position until 1996 when he was Minister of State for the Economic Planning Agency. Other portfolios include Minister of State, Economic and Fiscal Policy in 2001and Chair of the LDP's Policy Research Council from 2001 to 2003.
---
Minister of Justice (法務)
NOZAWA Daizo
(野沢 太三)
After graduating from the University of Tokyo with a degree in civil engineering in 1956, he went to work for Japan Railways. After leaving that company in 1986, he was elected to the Diet for the first time. In 1989 be became vice-minister for Hokkaido Development. This posting in 2003 served as his first full cabinet position. Areas of focus during this administration were public safety, prison, and judical reforms.
---
Minister for Foreign Affairs (外務)    
KAWAGUCHI Yoriko
(川口 順子) After Tanaka's multiple mis-speaks Koizumi handled foreign policy himself from late 2001 until February 2002 when Kawaguchi moved from her position as Minister of Environment . This Cabinet presided over a very complicated era in Japanese foreign relations. Challenges included the wars in Afghanistan and Iraq, as well as a cooling in relations between Japan and its neighbors China and Korea.
---
Minister of Finance (財務)
TANIGAKI Sadakazu
(谷垣 禎一)
TANIGAKI Faction
Tanigaki worked briefly as a lawyer after graduating from Tokyo University in 1972. In 1983 he was elected to the Diet and took over his recently deceased father's (TANIGAKI Senichi) seat as well as his strong faction within the LDP. His first cabinet position came in 1997 when he served as Minister of State for Science and Technology. Prior to this position he served as Minister of State heading the Industry Revitalization Corporation of Japan, and Minister of State for food safety.
---
Minister of Education, Culture, Sports, Science, and Technology (文部科学)
KAWAMURA Takeo
(河村 建夫)
Tsushima Faction Upon his graduation from Keio University in 1967 Kawamura found employment wth the Seibu Oil corporation. After the death of his father Sadakazu in 1976, he was elected to the Yamaguchi Prefectural Assmbly for the first time, then served there for 14 years. His first post in national government came in 1990 when he was elected to the Diet as a successor to relative TANAKA Tastuo. From 2001 under the Mori Administration he took serveral turns as Vice-minister, but Koizumi's second term marked Kawamura's first term as Minister of Education Science, Sports, and Technology.
---
Minister of Health, Labour, and Welfare (厚生労働)
SAKAGUCHI Chikara
(坂口 力)
Komei Party Sakaguchi remained in this post from the first Koizumi Administration.
---
Minister of Agriculture, Forestry, and Fisheries (農林水)    
KAMEI Yokiyuki
(亀井 善之) Yamazaki Faction Hailing from Kanazawa on the Eastern side of Japan, his political carreer started on his election to the Diet in 1979. Portfolios of note for Mr. Kamei include Minister of Transport in 1996 under the first Hashimoto administration, as well as the Chair of the Standing Committee on Rules and Administration from 1997-1998. Agriculture, Forrestry, and Fisheries under the Koizumi administration served as his last cabinet post as he died in 2006 at the age of 70 from cancer. His son now serves as diet representative in his former district.
---
Minister of Economy Trade and Industry (経済産業)
NAKAGAWA Shoichi
(中川 昭一) Ibuki Faction
Nakagawa was born in Tokyo to a prominant Hokkaido politician in 1953. A member of the Tokyo University class of 1978, he worked the Industrial Bank of Japan until 1983. December of that year, he was elected to the Diet for the first time to Hokkaido's 11th District. Befitting a representative from the largly-ruaral Hokkaido, he secured a position as vice minister for Agriculture, Forrestry, and Fisheries in 1989. His portfolio both within the LDP and the Diet as a whole reflected this interest until his first ministerial post came in 1998 under the Obuchi cabinet full minister of the AFF. Starting in 2001 he served as head of public relations for the LDP. In 2002 he switched to leading the party organization until his appointment to this post.
---
Minister of Land, Infrastructure, and Transport (国土交通)   
ISHIHARA Nobuteru
(石原 伸晃)
Ishihara was moved to this post from his position as Minister of State for Administrative and Regulatory Reform in the first Koizumi cabinet. This cabinet post also entailed national tourism promotion during this period.
---
Minister of Environment (環境)
KOIKE Yuriko
(小池 百合子)
Machimura Faction Koike is one of the very few top Japanese cabinet officials with extensive experience in the Middle East. After completing her degree at Kansai Gakuin University in 1971 she completed an intensive Arabic course at the American University in Cairo in 1972 and a ubsequent BA at the University of Cairo in Sociology in 1976. After working as a translator and television personality, she was elected to the House of Councillors from the Japan New party in 1992. In 1993 she was elected to the House of representatives from Hyogo prefecture under the Japan New Party. In 1994 she helped found the New frontier party and served as one of its leaders until helping to establish the Liberal Party in 1998. She sided with the faction that became the Conservative Party when the liberal party split in 2002. In 2003 she joined the remains of this party when it joined the LDP. This post marked her first cabinet position.
---
Chief Cabinet Secretary/Minister of State for Gender Equality (官房長官・男女共同参面担当)    
HOSODA Hiroyuki
(細田 博之)
Machimura Faction
Replacing Fukuda in the Chief Cabinet Secretary role, Hosoda marks one of the many Tokyo University/MITI almuni in the Japanese Cabinet. His career in MITI included a stint in Washington serving as Director of Japan Petroleum Corp, and at home as Director of the Price Policy Division in MITI's Industrial Policy Bureau. In 1986 he retired to become a personal Secretary to his father HOSOKAWA Kichizou, a diet member at that time. He was first elected to the Diet in 1990. His first cabinet posting came immediately prior to this as Cabinet Secretary for Okinawa and the Northern Territories where he was instrumental proposed reorganization of the American military's presence in the former.
---
National Public Safety Commission Chair/Minister of State for Declining Birth Rate, Youth Affairs, and Food Safety. (国家公安委員会長・少子化・青少年育成・食品安全)
ONO Kiyoko
(小野 清子)  
Ibuki Faction Ono first rose to national prominance as a bronze medalist in gymnastics in the 1964 Tokyo Olympics. In 1965 she started as a part-time lecturor at the Tokyo University of Education, now Tsukuba University. She was first elected to the House of Councillors in 1986 and served in numerous capacities concerning youth and women's issues.
---
Minister of State for Defense (防衛)    
ISHIBA Shigeru
(石破 茂)
Tsushima Faction
Reflecting Japan's post-war tradition of civilian-controlled defense forces, Ishiba never served in the SDF. He entered Mitsui Bank immediately upon his grduation from Keio University in 1979 until 1983. That same year he worked for fmr Prime Minister Tanaka's "Thursday Club." In 1986 He ran for and was elected to the House of Representatives from Tottori Prefecture. He established his free-market credentials in 1996 as Chairman of the Diet's Committee on Deregulation, and his Defense Credentials in 2000 as Senior State Secretary for Defense. In September of 2002 he took this post, as well as taking the lead on the North Korean abduction issue.
---
Minister of State Okinawa/Northern Territories/Science and Technology Policy/Personal Information Protection/Information Technology

(沖縄・北方・科学技術政策・個人情報保護)
MOTEGI Toshimitsu
(茂木 敏光)
Tsushima Faction After his graduation from Tokyo University in 1978 with a degree in Economics, Motegi worked for Marubeni, the large Japanese trading house. He soon left to pursue his masters degree at Harvard's Kennedy School of Government. He finished in 1983. Afterwards he worked the Politics beat for the Yomiuri Newspaper then for McKinsey and Company as a consultant. 1993 marked his entry to the political world as he entered the Diet under the auspices of the Japan New Party. He entered the LDP in 1995. From that time until this position, his portfolio included sub-cabinet posts in foreign affairs and economics.
---
Minister of State for Disaster Managment /Emergency Legislation

(防災・機期対策)    

INOUE Kiichi
(井上 喜一)
Nikai Faction
From his graduation from Tokyo University in 1955, Inoue worked for the Ministry of Agruculture, Forrestry, and Fisheries until 1986 and his election to the Diet. He passed through the Japan Renewal Party, New Frontier Party, and new Conservative parties before re-joining the LDP in 2003.
---
Minister of State for Financial Services Economic and Fiscal Policy, and Postal Privatization.
(金融・,経済財政・郵便民営化)
TAKENAKA Heizou
(竹中 平蔵)
Takenaka remained in the cabinet from the First Koizumi Administration. It was during this second cabinet (Sept. 2004) when Hiezo was initally charged with spearheading postal reform for Koizumi, a role he continued during the third administration as Minister of Internal Affairs
---
Minister of State for Administrative and Regulatory Reform (行政・規制改革)    
KANEKO Kazuyoshi
(金子 一義)
Nikai Faction
A graduate of Keio University, Kaneko inerhited his father's political base and leveraged it into his first Diet seat in 1986. He moved his way up through the LDP, weaving between factions and moving his way up through the ranks. Most posts he took involved finance and budget. This post marks his first cabinet position.